Dr. Carla Stokes was one of four distinguished doctoral alumni of the University of Michigan's Department of Health Behavior and Health Education invited to speak in honor of the Rackham Graduate School's Centennial celebration.  The University of Michigan dedicated the month of October to honoring and showcasing the diversity and quality of the intellectual legacy of the University's graduates through the Centennial Lectures.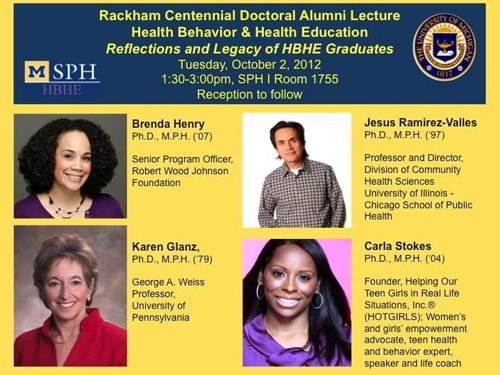 During her lecture, Dr. Carla reflected on her master's and doctoral training at the University of Michigan and the unique path that led to her rewarding career as a health educator, professional speaker, girl empowerment coach, social entrepreneur and Founding Executive Director of Helping Our Teen Girls In Real Life Situations, Inc. (HOTGIRLS)® (dating back to her matriculation as a student at Spelman College majoring in Psychology).  She also discussed how her groundbreaking doctoral dissertation research on the intersection between hip hop culture and black adolescent girls' self-representations, identity construction and sexuality in social media profiles has informed her work as a public health practitioner and influenced the direction of HOTGIRLS.
Dr. Carla's graduate training at the University of Michigan focused on improving the health of women, adolescents, girls and communities of color by developing, implementing and evaluating effective programs and strategies to promote healthy choices and behaviors.  She also taught courses on women's health and representations of women in hip hop and popular culture as an instructor in the Department of Women's Studies.  Dr. Carla investigated racial/ethnic health disparities and health policy issues as a National Institutes of Health Doctoral Trainee at the Center for Research on Ethnicity, Culture & Health, W.K. Kellogg Foundation Health Policy Research Fellow, and Congressional Black Caucus Foundation Public Health Fellow.  Her doctoral dissertation research was funded by a Woodrow Wilson National Fellowship Foundation/Johnson & Johnson Dissertation Grant in Women's Health and won honorable mention in the University of Michigan Distinguished Dissertation Awards competition in 2004 (selected from more than 660 dissertations).
Check back soon for more photos and a video clip from the event. 
For more information, visit the Center for Research on Ethnicity, Culture & Health's website.