Black Girlhood & Hip Hop
Dr. Carla will be speaking about black girlhood, hip hop, HOTGIRLS, and her experiences using hip hop as a tool for reaching Black girls at the 2014 Hip Hop Literacies Conference at Ohio State University.
Workshop Description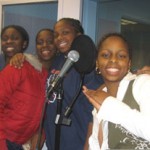 Hip hop-influenced popular culture has been criticized for glorifying sex, violence, misogyny, consumerism, substance use, and other risky behaviors. This workshop is designed to assist educators, mentors, adult allies, youth workers, and girl-serving professionals in understanding the role of hip hop-influenced popular culture in the lives of Black girls. We will explore creative strategies and best practices for using hip hop as a tool for educating black girls and involving them in health, media literacy, leadership, and youth development programs.
Registration:
Registration open until January 22nd or until full. Please register for the event. Must register in advance. Space is LIMITED!
Advance General Public-$5.00
Onsite registration, if space is available-$10.00
$5.00 FEE Guarantees your space as well as meals as indicated for both days!!
Ohio State students free with BuckID (must have Ohio State email address).
More Information: