HOTGIRLS founder Dr. Carla Stokes was selected as one of ten honorees inducted into Outstanding Atlanta on October 12, 2012. Outstanding Atlanta was created in 1968 to recognize outstanding young people of Atlanta who have distinguished themselves as exemplary citizens and demonstrated a steadfast commitment to leadership, civic engagement and service for the betterment of the Atlanta community. During the coming year, Dr. Carla will serve alongside this dynamic group on the Outstanding Atlanta Board of Directors as they come together to continue to improve the city of Atlanta.
Past alumni of Outstanding Atlanta include Atlanta Mayor Kasim Reed, City Council President Caesar Mitchell, noted author and playwright Pearl Cleage, anchorwoman Monica Kauffman, Executive Vice President of the National Center for Civil and Human Rights Deborah Richardson and Kate's Club Founder Kate Atwood.
Congratulations to this outstanding group of honorees!
At the induction ceremony, Dr. Carla was introduced by HOTGIRLS board member Na'Taki Osborne Jelks (Outstanding Atlanta class of 2000).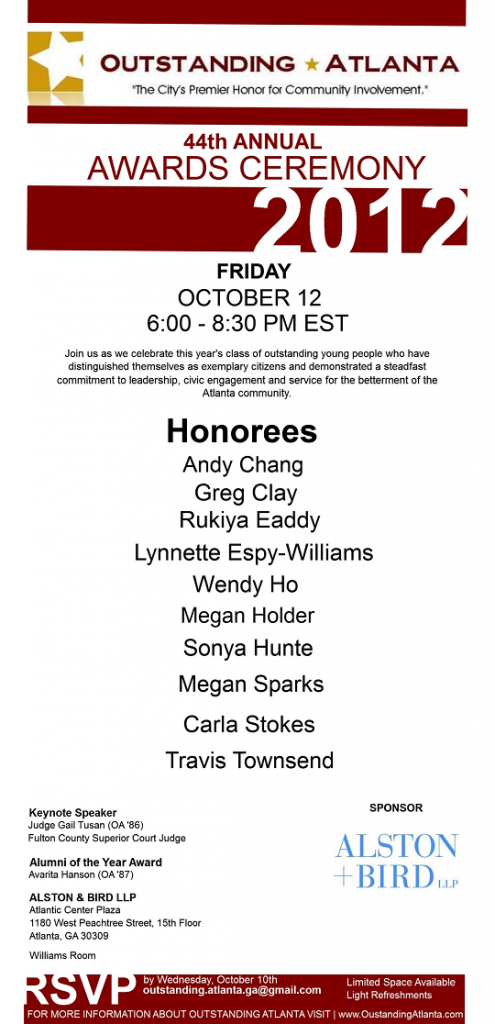 For more information, visit the Outstanding Atlanta website.